Adding a second chorus to your song can be an alternative to the pre-chorus. Here's how it works.
__________________
Download "The Essential Secrets of Songwriting" 6 e-book bundle. Become the best songwriter you can be!
__________________
Is it possible, or even desirable, to write a song that uses a double chorus? Your first thought might be that it seems to be a bit redundant. If the verse sets up a story and describes people and situations, and a chorus gives the emotional reaction to that story, what would be the need of a second chorus? But there are songs the use what could be called a double chorus, and the purpose seems to be an extra intensifying of song energy.
Two examples of a double chorus come immediately to mind: From the 1970s: "Ventura Highway" (Dewey Bunnell, performed by America), and in 2008: "Single Ladies (Put a Ring On It)" (Beyoncé and others).
It's clear that the so-called second chorus exists for the same reason that songwriters often add pre-choruses at the end of a verse. If the verse seems too short, songwriters will opt to add a pre-chorus, the purpose of which is to build song energy a bit more and allow for a longer musical journey before reaching the chorus.
But an option to the pre-chorus is to get right to the chorus, and then build energy by adding a second chorus.
In "Ventura Highway", the first chorus uses a similar melody and chord progression to what was just heard in the verse (G  Dmaj7), so it's a great candidate for a second chorus, which brings in a new melody and new chord progression (Em  F#m). The second chorus builds energy by shortening up melodic phrase lengths: The first chorus used melodic phrases that are 4 bars long, while the second chorus's melody uses 2-bar phrases. Shorter phrases intensify song energy.
In "Single Ladies", the first chorus ("If you liked it then you should have put a ring on it..") is short and repetitious, and really calls out for a second chorus. The second chorus in this case extends the chorus section of the song to be the same length as the verse. While that's not a songwriting requirement, it does help create a sense of balance.
How do you know if what you're listening to is a double chorus, and not simply a pre-chorus that moves to the real chorus? In most cases, a pre-chorus will be quite short, lacking the hook-based melody common in a chorus, feeling lyrically and harmonically "inconclusive." A recent example of a song with a typical pre-chorus is Katy Perry's "Firework".
Here's what you should be thinking about if you wonder if your song could or should use a second chorus:
Is the verse short, using a melody with a restricted note set (3 or 4 different pitches)?
Is the verse chord progression short (using only 1 or 2 chords)?
In those cases, using two choruses may be a viable alternative to adding a pre-chorus. Most of the time, listeners are not even aware of this issue at all, and would probably not even notice if you're using a pre-chorus or double chorus. The difference to you is this: A pre-chorus builds energy by creating a build; a double chorus allows you to get to the hooky part of the song more quickly, with the second chorus building extra energy.
____________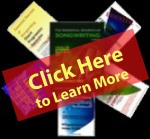 "The Essential Secrets of Songwriting" 6 e-book bundle will show you how to write great songs, harmonize your melodies, and give you hundreds of chord progressions in the process.
PURCHASE and DOWNLOAD the e-books for  your laptop/desktop