The Essential Secrets of Songwriting Blog – Gary Ewer
How Important Is "Externally-Sourced" Inspiration to You As a Songwriter?
We tend to think of songwriting and inspiration as going hand-in-hand. Talk to anyone about how they write songs, and "inspiration" is probably going to come up pretty early on in the conversation.
Here's the question: Do you need a good dose of inspiration before songwriting works for you? In other words, are you able to simply pick up a pencil and your guitar, and start churning out musical ideas without being inspired?
---
"The Essential Secrets of Songwriting 10-eBook Bundle" comes with an excellent Study Guide that's meant to get your songwriting moving in the right direction. Also comes with a FREE eBook, "Use Your Words! Developing a Lyrics-First Songwriting Process."
---
What I call "externally-sourced" inspiration refers to things that you see around you, or events that you experience, that excite your creative mind and get you writing. It's hard to put it into words, but we all know what inspiration is when we experience it.
In common usage, externally-sourced inspiration is what we usually mean when we talk about things that excite us to write. Beautiful things in nature, happy events like births, weddings, friendship and love can provide this kind of inspiration, as can sad events such as the loss of a loved one.
But there's another kind of inspiration that's important to songwriters, and I personally think it's more important than those common sources, and it's the kind of inspiration that comes from within — what could be called "internally-sourced inspiration."
How do we access that kind, and why is it better?
Every time we write music, we feel a kind of creative excitement that builds each time we put newly imagined ideas together. Every time something works, we feel it. That creative excitement is simply inspiration that's created within our own minds.
It's better than externally-sourced inspiration because as long as we're writing, we're generating this internally-sourced form of inspiration. Externally-sourced inspiration has a way of diminishing over time (and usually a short time), and then we're left with trying to find new sources of inspiration.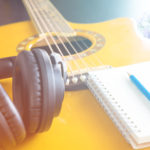 Think of it this way: every time you wait until you feel inspired to write, you're wasting time. Instead of waiting to be inspired, try this: get your pencil and your guitar or keyboard out, and start trying to spontaneously generate musical ideas. You may be surprised to know that it actually works!
And even if that first idea seems small and insignificant — a line of lyric, a couple of chords, or maybe a snippet of melody — it usually leads to the creation of another good idea, and then you get that shot of excitement.
So if today you're finding it hard to get excited about writing, try it anyway. You have nothing to lose, and you'll likely find that as you write, inspiration — the kind that comes from within — establishes itself and grows.
---
Written by Gary Ewer. Follow Gary on Twitter.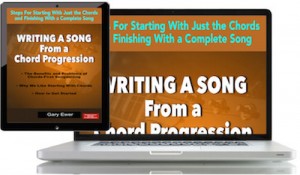 To discover the most important secrets of the chords-first songwriting process, read "Writing a Song From a Chord Progression." It's part of "The Essential Secrets of Songwriting 10-eBook Bundle."
Posted in
Inspiration
,
songwriting
and tagged
compose
,
creativity
,
excitement
,
external
,
inspiration
,
internal
,
lyrics
,
Melody
,
songwriter
,
songwriting
,
spontaneous
.
5 Characteristics of Great Song Lyrics
How the Rhythm of a Melody Changes as a Song Progresses
Why Hooks are So Important to Pop Songs
I'm Gary Ewer. For years I've been helping songwriters understand the basic fundamentals of good songwriting. I do that mainly through the free articles on this blog, and also through my 10-eBook bundle. If you lack consistency in your songwriting, and you want to take your abilities to the next level, everything you need to know is in that bundle package, so please take a look at those ebooks. And if you want to browse through the more than 2300 posts in the blog archive, scroll to the bottom of this page.
Please feel free to leave a comment at the end of any article. I love reading what others are thinking about music.
About Gary Ewer
Power Up Your Songwriting Skills!
$37 USD (Immediate Download)
or READ MORE
Got good songwriting instincts? Those instincts
might
be letting you down. Get "The Essential Secrets of Songwriting" 10-eBook Bundle, and get the skills you need to write great songs
consistently!
---
Stay Connected!
Read More Articles From the Archives: