Music From a Different Angle Can Help Cure Writer's Block
If you find that you just can't finish any song you start these days, give yourself a break from writing before the frustrations get too deep. It's often a good time to involve yourself in music, but from a completely different angle.
If most of the music you write comes about by playing around with your computer (loops, sequences, etc.), it's too easy to lose touch with other aspects of music: playing it, listening to it, talking about it, and so on.
---
"The Essential Secrets of Songwriting 10-eBook Bundle" comes with a free eBook, "Creative Chord Progressions." The eBooks in that bundle cover every aspect of songwriting, and it will improve your technique and move you toward being a more consistently excellent songwriter.
---
So before your creative block moves from being mild to severe, try the following activities. They'll keep you excited about music, and have the benefit of recharging your creative powers:
Organize a concert of local singer-songwriter talent. Talk to owners of a local café, bar, or other similar gathering place, about arranging a singer-songwriter talent evening or open mic. Sometimes just hearing and seeing other people performing their own songs can inspire you to get writing again.
Think of arranging already-existing songs rather than composing new ones. When you compose, the pressure is on to come up with something completely original. But what about taking, let's say, a public domain folk song — as Simon and Garfunkel did with "Scarborough Fair" — and treating it as if it were your own composition. The melody and lyrics are already there for you to use, and now you simply have to turn your attention to the musical presentation — the production.
Improve your playing abilities. It can help your songwriting chops to become a better instrumentalist. We all have musical "muscle memory", where our fingers move to the same shapes and ideas over and over again. The better the player you are, the more ideas you'll be able to create and tap into as a songwriter.
Start a blog or a podcast and write and talk about songwriting. Sometimes just getting your thoughts written down helps make you more disciplined, and that kind of organization goes a long way to sorting out the problems you might have been having maintaining a creative songwriting flow.
Collaborate on a musical project with someone from another artistic discipline. As a student of music years ago, I collaborated with a poet and a choreographer at Dalhousie University, and together we created a short ballet. The poetry was to be recited as the music was played, so I didn't have to worry about setting the words as lyrics. Working this way felt exciting and innovative, and it was amazing to see people onstage dancing to the music I had written. The project was different enough from every other writing project I had done that it felt inspiring and musically exciting.
When writer's block hits, it's usually some form of fear — a fear of failure. A creative block has a hard time taking hold if you frequently change how you involve yourself in music. Routines are good because you can work to get better at what you do.
But when you feel that you've become enslaved by your creative routine, it's time to look at music from different angles. Look for ways to feel musical and creative that get you out of your rut.
---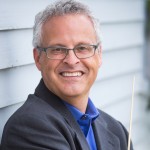 Written by Gary Ewer. Follow Gary on Twitter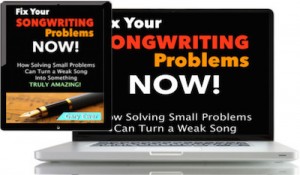 Sometimes you can tell that a song needs help, but you just don't know how to fix it. You need to read "Fix Your Songwriting Problems – NOW!" It will describe the most common problems you'll encounter as a songwriter, along with solutions you can try. Get it separately, or as part of "The Essential Secrets of Songwriting 10-eBook Bundle."
Posted in
songwriting
and tagged
arranging
,
creativity
,
failure
,
inspiration
,
instruments
,
music
,
playing
,
podcast
,
project
,
songwriter
,
songwriting
,
writer's block
.
I'm Gary Ewer. This blog has been my labour of love since 2008. You'll find the five most recent songwriting articles right here on this page, and if you want to browse through the more than 1500 posts in the archive, scroll to the bottom of the page.
Please feel free to leave a comment at the end of any article. I love reading what others are thinking about music.
About Gary Ewer
Power Up Your Songwriting Skills!
Got good songwriting instincts? Those instincts might be letting you down. Get "The Essential Secrets of Songwriting" 10-eBook Bundle, and get the skills you need to write great songs consistently!
$37 USD (Immediate Download)

or READ MORE
---
Stay Connected!
Gary's YouTube Videos
If you like
seeing
songwriting concepts being explained,
check out Gary's YouTube Channel
.
Gary's latest video: "5 Reasons to Include a Bridge In a Song's Design"
---
Read More Articles From the Archives: