"Progression" in music causes expectations. What things other than chords progress in your songs?
_____________
Download "The Essential Secrets of Songwriting" 6-Ebook Bundle. 11 Songwriting Principles That Will Turn Your Writing Around – Guaranteed.
_____________
The idea of chords progressing is a well-known one to us. But other song elements also progress. I've mentioned in this blog many times in the past that successful songs are a combination of predictable and innovative events, but balanced heavily toward predictable.
That's not a bad thing. If you often give people what they expect, but occasionally do something unique and unexpected, you are more successful at pulling them along and keeping them as listeners. In other words, songwriters that compose songs that are mostly predictable do a better job of building an audience base. The notion of progression helps achieve this.
But there are elements other than chords that progress, though you may not have thought of it that way. Have a look at the following list, and then take a look at your own songs. How many of your song elements show a healthy dose of progression?
Remember, progression simply means that once you've done something, listeners can guess what the next thing is likely to be. If you always give them what they expect, you create boredom. But if occasionally you change things up, you entice them, and they keep listening.
The key is to get the balance right: mostly predictable, with something unexpected every once in a while.
_________________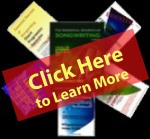 PURCHASE and DOWNLOAD the e-books (PDF format) and you'll learn much, much more about how to write great melodies, chord progressions, and every other aspect of songwriting.