If your chord progression is boring you, don't toss it. Here are five things you can do that will make any tired progression sound new.
_____________
Download "The Essential Secrets of Songwriting" 6-eBook Bundle, and build your audience base, starting right now!
_____________
You can't be faulted for trying to find a "killer progression." Every songwriter I know wants to do something unique, something that makes their song stand out from the rest. The problem is that most of the time, chord progressions need to have a good dose of predictability in order for them to work properly. So if your chords are working, but just seem to bore you, let's take a look at five standard treatments that will take that progression to new heights.
The standard progression we want to improve is: A  F#m  Bm  E  A. It's the basis for thousands or more songs that have become hits, and it's circle-of-fifths structure makes it very predictable. So what can we do to make this even more interesting? Try these five ideas:
Add Pedal Tones. A pedal tone is a note that is held while the chords change. It's commonly done in the bass, and the effect works even if the bass note is not a part of the chord. The Result: A  F#m/A  Bm/A  E/A  A. (The note after the slash indicates the pitch that should be played by the bass.
Add an Inverted Pedal. Similarly to a bass pedal tone, an inverted pedal means that an upper note, rather than the bass note, holds a constant pitch. There are lots of choices here, so just experiment. As an example, play the progression through, playing an E as an upper constantly-held note. The progression will incorporate this note, and it will slightly modify the progression: A  F#m7  Bmsus4  E  A.
Add Chord Inversions. An inverted chord is one in which a chord tone other than the chord letter name is being played as the bass note. We typically use inversions if we want to create a more interesting bass line, but another reason to invert chords is simply to modify the sound of the progression. For example, you might try: A  F#m/C#  Bm  E/G#  A.
Add Non-Chord-Tones. A non-chord-tone is a note that doesn't belong in the standard triad version of a chord. For example, a sus4 chord is a chord that uses a non-chord-tone. Most of these kinds of chords need to be "resolved", which means that after playing the chord that uses a non-chord-tone, you'll usually want to go to a standard version of the same chord. For example: A  [F#msus4  F#m]  Bm  [Esus4  E]  A. (The chords in square brackets should be half as long as the other chords.)
Add Secondary Dominant Chords. A secondary dominant takes a while to explain, but the effect is easy to do. If your progression uses a minor chord that's followed by a chord whose root is 4 notes higher (like from F#m to Bm, and again from Bm to E), simply change the minor chord to major: A  F#  B  E  A.
The good thing about these effects is that you keep what is otherwise a very strong progression, simply dressing it up a bit to sound unique.
____________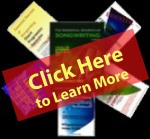 "The Essential Secrets of Songwriting" 6 e-book bundle will show you how to write great songs, harmonize your melodies, and give you hundreds of chord progressions in the process.
PURCHASE and DOWNLOAD the e-books for  your laptop/desktop