Back in 1982 Bruce Springsteen released "Nebraska," his sixth studio album. It's the perfect example of "barebones." Springsteen played all the instruments himself: guitar, harmonica, mandolin, glockenspiel, tambourine, Hammond organ and synths. He even recorded the album himself at home on a small 4-track Teac cassette machine.
---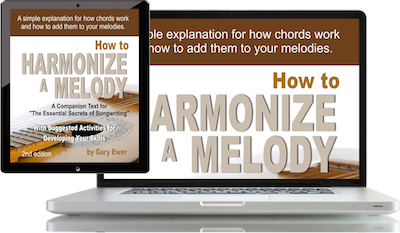 Stuck with how to get chords that fit the melody that's rolling about in your musical mind? "How to Harmonize a Melody" will show you how to do it, with sound files that demonstrate the process. Get it separately, or as part of "The Essential Secrets of Songwriting 10-eBook Bundle."
---
His intention was to do as good a job as he could do using the equipment he had, teach the songs to his E-Street Band, then re-record them. But because of the deeply personal nature of the songs, Springsteen and manager Jon Landau felt that the demos, once cleaned up a bit, could and should serve as the final version of the album.
The album was successful, and rated high on most lists. It's been ranked number 150 on the 2020 version of Rolling Stone's list of the 500 Greatest Albums of All Time.
I keep thinking about the fact that the album was released in 1982. It seems an unlikely year — the year of "Thriller" (Michael Jackson) and Prince's "1999" — for this kind of quiet, introspective album.
But it should serve to remind us all that in the creative arts, simplicity is almost always a crucial ingredient.
It's not just the recording process of "Nebraska" that's scaled down. Even the songs themselves are seemingly unadventurous, mainly 3-chord tunes. But the subject matter seemed to demand that kind of simplicity of design. Songs about ordinary people, luckless folks, criminals, and others facing life-changing moments… it seemed that the personal touch of acoustic guitar and harmonica was all that was necessary.
Is there a lesson here for today's songwriters? There are some great songs from every generation that get dressed up in the production values of the day, when perhaps the simplicity of a mainly one-instrument accompaniment is all that's needed. (Genesis' stripped-down version of "Follow You Follow Me" is one I particularly like.)
I've always believed that everything about a recording — instrumentation, production, and specific recording techniques — should serve the song. And that if a song doesn't work in a bare-bones, stripped down sort of way, it's probably not going to work no matter what other things you layer on top of it.
And sometimes, the best version of a song is the one that's clean, clear and transparent. Whatever allows the song and words to shine forth, to communicate emotionally to the listener, is the one you should be offering to your fans.
In other words, get your song working in its simplest form, and then only add to it what makes it better.
---
Written by Gary Ewer. Follow Gary on Twitter.
"The Essential Secrets of Songwriting" eBook bundle includes "Writing a Song From a Chord Progression". Learn how to write great songs by starting with the chords, and then avoiding all the potential pitfalls of the chords-first songwriting process.