Lately I've been getting lots of very good questions from songwriters by email regarding chord progressions, and most of those questions deal with some aspect of how to make chords a bit more creative without making them sound… well, like garbage!
I thought now might be a good time to go back to offering my eBook "Creative Chord Progressions" (high quality PDF format) as a free add-on when you purchase "The Essential Secrets of Songwriting 10-eBook Bundle."
A bit later today I'll have a separate "Buy Now" button on that purchase page, allowing you to get it separately ($9.95 USD). For now, if you purchase the bundle package, "Creative Chord Progressions" will be yours free, and will be included in your download package.
"Creative Chord Progressions" is based on a very important principle: that chord progressions, no matter how creative or inventive they are, always work better when the basic foundation of chord theory is adhered to. In other words, simply throwing chords around like you're making a tossed salad more often than not ends up with everything sounding muddled and confusing. This eBook shows you how taking simple progressions, but then applying creative techniques, often winds up giving you the best results.
For each section of the eBook you'll get sample progressions that you can use and/or modify to suit your own songs.
To read more about this FREE deal, head over to the online store.
---
Written by Gary Ewer. Follow Gary on Twitter.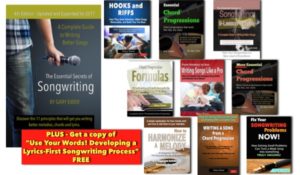 Get "The Essential Secrets of Songwriting" eBooks. They'll help you polish your technique, and make you the best songwriter you can be. Comes with a Study Guide, tons of chord progressions, and information covering every aspect of how to write good music.