We often speak of writer's block as being a state of mind that keeps you from coming up with anything useful despite all your best efforts to write. A creative block usually means staring at a blank sheet of paper, watching every good idea fizzle away.
But there's another kind of frustration that occurs: the lack of desire to write in the first place.
And perhaps you've been feeling that way. It's not so much that everything you try to write leads nowhere. It's more a situation where you just don't feel compelled to even try.
That kind of creative desert comes from the lack of rewards. Who knows, you may have a good idea brewing in your musical imagination, but you don't feel any sense of urgency to process those ideas into a working song.
The lack of rewards usually means either:
there's no personal reward. You feel that there's no one meaningful to you that really cares about your writing, and when it comes down to it, you're not getting much from your own writing either; and/or
there's no financial reward. Your songwriting has never paid off for you.
We often think of inspiration and motivation to be two very related terms, but this kind of scenario, where we find it hard to write because we're not getting a personal or business-based reward, really shows us the difference between those two terms.
We all need motivation. We need to know that someone cares about what we're writing, and we like to believe that the people close to us in our lives are proud of our efforts.
And it's nice when our writing can pay off for us. Even in some small way — just to be able to hold a cheque in our hands and know that it came, either directly or indirectly, from something we composed — that's so important.
The second reward – the financial one – that comes with time, with slowly building your fan base and making a name for yourself.
The first one, though, is trickier, because other than writing good songs, there's no one way that's best for getting a personal reward for your songwriting.
If you wish that the people that mean most to you – your family and close friends – were showing more of an interest in what you do with you songwriting. Here are three ideas that you can try right away:
Play short house concerts for close friends and family. A house concert is a great way to bring people together. Keep them short, and provide refreshments and have a nice get-together at the end.
Publish a newsletter. This can be a great way to keep your loved ones connected to your musical activities. This is easy to do, and you can publish it through your website, Facebook page, or other social media. Then send it to family and friends, and of course make it available on your website. And speaking of your website…
Keep your website or Facebook page updated. Nothing worse than a social media site that still has last year's musical activities on it.
It takes a considerable amount of healthy ego to be a good songwriter. It should not surprise you that you really need people to respond to your efforts.
And it definitely shouldn't surprise you to realize that without the support of your closest friends and family, your desire to write might start to wither away.
So if you find that you can't muster the energy to write, your first strong efforts to fix that problem might be to look at what you've been doing to engage the people you love. Wave a flag to get a bit of attention for yourself!
---
Written by Gary Ewer. Follow Gary on Twitter.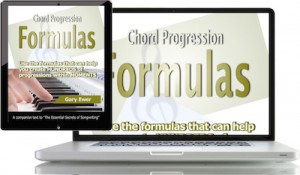 "Chord Progression Formulas" show you how to create dozens of chord progressions in mere moments. With lots of sample progressions you can use right away. It's part of "The Essential Secrets of Songwriting" eBook Bundle packages. Get today's 10-eBook Deluxe Bundle deal.