It's a common technique for songwriters to write a verse that sits mainly in a minor key, and then switch to a major key for the chorus. The main reason for this kind of minor-to-major relationship working so well is that it considerably brightens the sound of a song. If you think of the verse and chorus as being the main unit in a song, you start dark and end bright, and there's something very pleasant about that.
But there's something else you can try, which is to inject a major key moment into a minor key verse. Sometimes all that needs to happen is to feature the relative major tonic chord briefly, and the song "California Dreamin'" (John Phillips, Michelle Phillips) is a good example of what I mean.
The studio version of this song puts the verse in D minor (actually a rather flat D). For songs in a minor key, moving to the major usually means changing to the relative major, which in this case would be F major.
The first line of the verse gives us these chords:
(N/C)              Dm    C    Bb        C     Asus   A
All the leaves are brown       And the sky is grey
The next part of the progression moves distinctly toward the relative major:
Bb            F   A  Dm    Bb       Asus   A..... (Dm)
I went for a walk     on a winter's day;
As you can see, it doesn't take much. Just the Bb and F chords that start the second line give enough of a hint of F major that it feels that the song has, ever so briefly, changed key to the relative major.
And then right away, they follow that Bb-F pair with A moving to Dm, which pulls the music immediately back into D minor.
As you can see, the hint of F major is extremely slight: it lasts for two chords before being brought back to D minor. But it's enough to create a temporary brightening of the mood, giving the verse a brief moment of harmonic contrast.
It should be noted here that the 4th line of the verse pulls back into D minor due to the Asus-A chords; the D minor chord isn't necessary to establish D minor as the key.
"California Dreamin' doesn't use a chorus, being in a verse-verse-instrumental-verse format. If your song does use a chorus, you can still use this idea of the brief visitation to major in your verse, and then a complete switch to major for the chorus.
In your own minor key song, you can easily move into major by doing the following:
Identify the relative major of your chosen minor key. If you don't know how to identify the relative major, check out this graphic.

Begin your verse in a minor key.
Find a spot to change key. It often works best to have this happen near the midpoint. To make the change, try using the IV-I chord relationship (as "California Dreamin'" does) or V-I.
Once you've changed to major, immediately look for a way to get back to minor. You can do this by doing iv-i or V-i in the minor.
As I mentioned, the benefit to inserting a very brief visit to the relative major in the middle of your verse is that it offers a bit of contrast to your music, giving a very short moment of brightness.
That kind of variety has a long historical tradition, a technique used even by classical composers who would start a symphony in a minor key, and then move briefly to major.
---
Written by Gary Ewer. Follow Gary on Twitter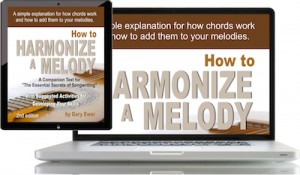 "How to Harmonize a Melody" is part of the 10-eBook Deluxe Bundle, written by Gary Ewer. If you can "hear" the chords you want, but you just can't find them, this ebook will take you step-by-step through a process that works.
Right now the Deluxe Bundle is on sale. Read more..