There is an important difference between being dissatisfied with your songwriting, and being frustrated.
____________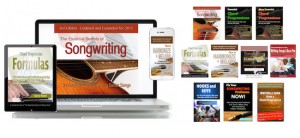 Take your songwriting further than you've ever taken it before. Get "The Essential Secrets of Songwriting" 10 eBook Deluxe Bundle, and get this special deal.
____________
As a songwriter, what do you do when frustration sets in? If you find yourself blindly trudging forward, trying to complete your planned writing session, you're likely wasting time and causing yourself needless anxiety.
Research shows that one of the main causes of writer's block is fear — a fear of failure. It's common, while in the process of writing, to feel frustrated when the attempt to put musical ideas doesn't work. If this carries on for a while, you find yourself starting to wonder if you'll ever get things to work again. That's the fear of failure, and it can be debilitating.
There's a big difference between feeling frustrated and feeling dissatisfied. Dissatisfaction with your writing can actually be a positive attribute, will spur you on to correct the things that are troubling you, and will usually result in something better.
But frustration is a negative force in the arts. It causes burnout, and can sink you into a prolonged bout of severe writer's block.
If this is one of those days for you, the best thing you can do is stop, relax and turn your attention elsewhere.
Here's my suggestion for when songwriting becomes more of a frustration than a fun activity: take out your calendar, and set a date within the next week that you plan to get back into songwriting.
Once you've set that date, take the next few days of, and stick to that plan. Treat it like a vacation from your job. Even if you feel the desire returning to get creative, turn that energy toward a different form of art: poetry, short story writing, etc.
You're going to feel completely different when you finally get back into writing, and you'll feel a sense of adventure and creativity that you haven't felt for a while. Rest can do that.
If you're simply feeling dissatisfied today, let that dissatisfaction drive you to create something better.
But if you're feeling frustrated or burnt-out, it's time to stop, take a mini vacation, and let your imagination recharge itself.
Chin up! Frustration practically all the time gets replaced by positive energy, as long as you know when to stop.
__________
Written by Gary Ewer. Follow Gary on Twitter.
"The Essential Secrets of Songwriting" 10-eBook Bundle looks at songwriting from every angle, and has been used by thousands of songwriters. How to use chords, write melodies, and craft winning lyrics. Get this special deal today.