Give considerable thought not just to which words to use, but where you place them in your melody.
_____________
Download "The Essential Secrets of Songwriting" 6-Ebook Bundle. 11 Songwriting Principles That Will Turn Your Writing Around – Guaranteed.
_____________
You know that all words are not created equal; some words carry far more emotional meaning than others. It's those words that you want to ensure get presented to the listener with maximum impact. By being extra careful about where you place words with respect to melodic range, you can increase or diminish their impact. Higher notes tend to come across to listeners as being more emotional moments, so those are the best places to put a word that's meaningful and important to your song's meaning.
It's possible to get a little over-obsessed with this, so be careful. You can inadvertently create a lyric that sounds over-crafted and uninspiring if you automatically place every meaningful word in an upper octave. So you'll need to use some common sense.
But to give this technique a try, you will want to go through your lyric and circle words that you feel carry the most poignant part of your message. These will be words that you expect will have the strongest impact on your audience.
Now think about these tips:
As you create your melody, make sure that many of these words get placed in a significant place, like a high point in the melody.
In the harmonic plan for your song, consider changing chords when a circled word happens. Key words that represent the basic emotion of the song work well with unexpected chords, so save a surprising moment in a chord progression to coincide with an emotionally important word.
A circled word does not have to be a verb, like "love", "cherish", "hold", and so on. It could be "you", "life", "Hey!", "child", or other words that could work as an exclamation or cry.
The point with this exercise is to ensure that you remain in complete control of your lyric, and that the melody and lyric work together to produce the desired effect. When there are problems with lyrics, more often than not those problems come from a mismatched emotional level between the text and the melody. Circling key words in this way help you to remain focused on linking melody and lyric in an effective way.
_________________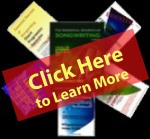 PURCHASE and DOWNLOAD the e-books (PDF format) and you'll learn much, much more about how to write great melodies, chord progressions, and every other aspect of songwriting.