Repeated-note melodies seem to be all the rage these days, and there may be a good reason for it.
_____________
Download "The Essential Secrets of Songwriting" 6-Ebook Bundle. 11 Songwriting Principles That Will Turn Your Writing Around – Guaranteed.
_____________
The song sitting atop Billboard's Hot 100 for the past couple of weeks is Maroon 5's "One More Night", and it is continuing a trend toward melodies that are primarily built on a single note with a repetitive chord progression underneath. These are melodies that show little contour, at least in the traditional sense of the word. It's part of a trend you can see developing in pop music for the past decade.
I wrote a blog post a couple of months ago ("The Dilemma of Sameness in Today's Pop Music") commenting on a recent study that showed that today's pop music is suffering from a "blandness and sameness", the pendulum for which must surely be ready to swing in the opposite direction. I say the sooner the better.
But there could very well be a reason for the inclination toward these kinds of repeated-note melodies, and it likely comes from the nature of the lyric.
One of the basic principles of songwriting is the fact that melodic shape needs to be considered with text (and obviously vocal range) in mind. We know that the kind of text you're setting will — and indeed should — affect the shape of a melody.
Here is the basic idea:
Lyrics that speak of love and compassion generally need melodies that are pitched centrally in a singer's range, with a good sense of contour, incorporating a hooky, emotional leap here and there.
Lyrics that relate a story use lots of stepwise motion, with the melody using leaps at more emotional moments.
Lyrics that show determination, dedication or forthrightness will fixate on a single pitch.
It's that 3rd category that seems to be a prevalent lyrical approach in songs populating the Billboard Hot 100 in recent years.
The tendency for pop songwriters to fixate on a single pitch to convey determination was not always necessarily true. In the 60s and early 70s, songwriters were more likely to make use of rhythmic devices to convey forthrightness. A good example is "I'm Gonna Make You Love Me", written by Kenneth Gamble, Leon Huff and Jerry Ross, and a big hit for Diana Ross & The Supremes and The Temptations in 1968. Very determined lyrics, with a rhythmically active verse and nicely contoured melody. The chorus rhythms change, digging in to each beat with force and conviction, but coupled with a lovely melody.
If you find that your songs are primarily using melodies that centre around one pitch, it may actually be time to look at the kind of lyric you're setting. You may find that rather than melodic ideas that have stagnated, your song topic and lyrical approach are the parts that need a bit more thought.
_________________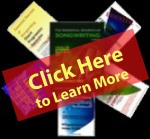 PURCHASE and DOWNLOAD the e-books (PDF format) and you'll learn much, much more about how to write great melodies, chord progressions, and every other aspect of songwriting.