If you aren't doing anything to solve your own specific songwriting problems, you're never going to improve, period.
____________
Download "The Essential Secrets of Songwriting" 6-eBook Bundle, and find out how hit songs of the past 5 decades can make your songs work.
_____________
Has songwriting turned from something that used to be fun into something that's just frustrating you? You may remember a time when writing a song seemed to happen effortlessly. But now it seems that every time you pick up your guitar and try to write something – anything – your mind turns to mush. There's a good side to this problem: writer's block can actually be a symptom of your musical mind trying to improve. While a year or two ago you could write with ease, now you're demanding much more from yourself. The old, simple songs just won't cut it anymore, and, even though it doesn't feel that way, you're becoming a better writer.
But along with that improvement there often comes frustration. Your musical mind is trying to work on a higher level, and it doesn't happen easily. There are things that will speed up the development of your abilities. One is listening, and you really need to try to listen to as much music as you can on an almost daily basis.
But another important aspect of improving is often overlooked: target your songwriting problem.
Every songwriter has those things they do well, and then the things that are weak and need improvement. It takes humility to listen to your own music with the purpose of targeting its problems. Maybe it's lyrics. It could be that your melodies just seem like aimless, shapeless conglomerations of notes.
Whatever the issue, you need to target your problem if you want to improve. To not focus on your specific problems means you're going to keep repeating the problem. And the only way you'll know is that your audience base stays the same and doesn't grow.
I've been writing this blog for several years now, and have looked at songwriting from every possible angle. So take a look at the following list of postings, and start becoming a better songwriter today. (All links below open in a new browser window.)
PROBLEM: YOU CAN'T WRITE A GOOD MELODY?
PROBLEM: YOU CAN'T WRITE GOOD LYRICS?
PROBLEM: YOU HAVE A PROBLEM WITH SONG STRUCTURE?
PROBLEM: YOU JUST NEED SOME IDEAS!
____________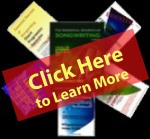 "The Essential Secrets of Songwriting" 6 e-book bundle will show you how to write great songs, harmonize your melodies, and give you hundreds of chord progressions in the process.
PURCHASE and DOWNLOAD the e-books for  your laptop/desktop