Download "The Essential Secrets of Songwriting" 6 E-book Bundle. Become a top-level songwriter, starting now.
_________
Humans have an ability that no other animal (apparently) has, which is to think creatively, and to communicate those creations to others. But what do you do when musical ideas seem to dry up? Nothing frustrates songwriters more than the sudden inability to form coherent musical thoughts. And writer's block can be more than that. If you find that your latest song sounds very much like songs you've already written, that's also a sign of writer's block. Having a solid understanding of how good music works will help keep writer's block at bay. And in addition, consider the following seven ideas. You may find that one or two of them will be just what the doctor ordered for getting back in the songwriting groove.
Do some small-scale writing projects. In other words, stop pressuring yourself to create full songs every time you sit down to write. It can be therapeutic, even fun, to try some songwriting "games. Here's a list of ideas I offered several months ago.
Do an analysis of one of your favourite songs (that's not your own). There's always a reason why great songs are great, and it can stimulate your creative mind to study a favourite song, if only to determine what it is you like about it. If you're not sure how to analyze music, check this article out.
Develop your abilities in another art form. Just because you're temporarily finding it hard to write music doesn't mean that your creative abilities in all art forms are stunted. So try your hand at painting, sculpting or dancing. How about short story writing? All of these ideas allow you to express your creativity in other ways, and will ultimately get you back on track.
Focus on your performing skills. If writing is hard at the moment, it's a great time to take a break and focus on your playing. From personal experience I can tell you that nothing has motivated me more, during times of writer's block, than working on my performance skills.
Give songwriting or performance lessons. There's an old adage in the education world that says that we remember 20% of what we're taught, and 80% of what we teach. Even though there are probably no stats to confirm this, the general idea is certainly true. That's because teaching requires us to organize our thoughts, and present a topic in a logical, systematic way. And sometimes a bit of cerebral organization is all that's needed to get us writing again.
Transcribe a great performance. Take a recording of something you really love – a great guitar solo, bass line, horn riff, etc., and write it down. If you can't read or write music, try simply learning how to play one of these things by ear. There's nothing like listening to someone else being creative to stimulate your own creative senses.
Just STOP – for now. And stop worrying. Writer's block is always fleeting. It never lasts forever. Sometimes the best thing to do is to retreat for a while, and allow your brain to be occupied by other, less creative activities. It may be a good time to build that bookshelf you've been meaning to get to, weed the garden, plan a nice meal for your loved ones, or just sit back and listen to some great music without wondering why it's great.
And to repeat… stop worrying! Having writer's block is like catching a cold. It's lousy while it lasts, but never lasts forever.
____________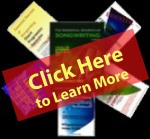 "The Essential Secrets of Songwriting" 6 e-book bundle will show you how to write great songs, harmonize your melodies, and give you hundreds of chord progressions in the process.
PURCHASE and DOWNLOAD the e-books for  your laptop/desktop