Download "The Essential Secrets of Songwriting" 6 E-book Bundle. Become a top-level songwriter, starting now.
_________
I was reading an online article recently about the use of metaphor in songwriting. The gist of the article was that ultimately, your listeners have to understand what the song is about. After all, there's nothing to relate to if they don't understand the song. I was kind of startled by this, because a simple examination of songwriting history disproves that point of view. There are many songs that use metaphors and abstract story-telling very successfully, where it's not clear at all what's being described. What is important, however, is that your listeners have a theory about the song. And even there…
Here's a short list of songs that made it on to the Billboard charts, songs where abstract metaphors and double-meaning comprised a large part of the lyric: "Fly Me To the Moon" (Bart Howard), 1955; "I am the Walrus" (The Beatles) 1967; "25 or 6 to 4" (Chicago) 1970; "Roundabout" (Yes) 1972; "A Horse With No Name" (America) 1973; "Hotel California" (The Eagles) 1976; "Blinded By The Light" (Bruce Springsteen), recorded by Manfred Mann's Earth Band in 1977.
All of these songs use metaphor in different ways. Some of them use metaphor in a very straight-forward way, where it's quite obvious what's being sung about, and why the metaphor is so appropriate. "Fly Me to the Moon" is a good example of this. In fact, the composer Bart Howard finishes each verse with "In other words…". Very helpful.
For other songs, a relatively simple story is recounted, but implies deeper, unspoken meaning, such as with "Hotel California" and "A Horse With No Name".
And still others are songs where the lyric, and the actual meaning, is so obscure that it would likely take an explanation by the songwriter to clear it up for us. "I am the Walrus" "Blinded by the Light" and "25 or 6 to 45" are examples of these kinds of songs.
And in each case, even with the most abstract lyrics, the actual meaning of the song does not necessarily frustrate the listener to the point where they don't want to listen. As I pointed out, all of the songs have charted.
But they all use metaphor in a different way. For some, the metaphor is a relatively simple double meaning. For others, the song is a series of metaphors that seem to be unrelated.
So what is the deal with metaphor, then, and how can you use it successfully in your songs? Is it vital that you give the audience some clue within the lyric as to the actual meaning? No.
Having said that, my opinion is that the best song lyrics are ones that give a hint or clue, even if it's well-hidden within the text of the song, as to its true meaning. These kinds of lyrics are double-meaning lyrics. The song may be about a trip up a mountainside, but in fact it's really about a troublesome time in your life.
By hiding clues within your lyric, you allow listeners to debate and theorize. And in the final analysis, the actual meaning may not be that important. What is important is that the listeners are thinking about your song.
The most important thing about a song lyric is that it captures the imagination of listeners, and entertains people even if they can't figure out the double meaning.
It reminds me about a debate I was having years ago about Richard Adams' wonderful book, "Watership Down". Several of us were comparing theories about its meaning. It stopped us in our tracks when someone said, "My theory is that it's a cute story about rabbits."
To me, metaphor has been used to its best effect if your listeners wonder if you're even using a metaphor at all!
____________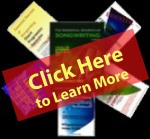 "The Essential Secrets of Songwriting" 6 e-book bundle will show you how to write great songs, harmonize your melodies, and give you hundreds of chord progressions in the process.
PURCHASE and DOWNLOAD the e-books for  your laptop/desktop