As a songwriter, when the song you're working on seems to be going nowhere, it's a source of great discouragement. You find yourself facing a day of reckoning: Do you keep going with it, or do you declare it a dud and toss it?
There is another option: put it aside, and revisit it at some undetermined point in the future. It's not a failure; it's simply incomplete.
---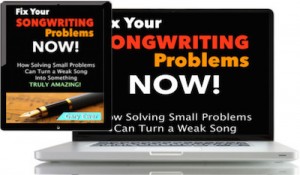 Time to fix what's ailing your songs. Read "Fix Your Songwriting Problems – NOW!" – It's part of "The Essential Secrets of Songwriting 10-eBook Bundle" – Or get it separately.
---
Here's an analogy that might be useful: if you ever see young children playing with toys, you'll see that a certain one that used to be a favourite will become neglected, put on the shelf and ignored. In the child's mind, they've tapped all the possibilities of that toy, and it's doing nothing for them now. Their imagination, at least with regard to that toy, has dried up. So it gets put away.
At some point in the future, that old toy might get dusted off and finds a new purpose. It might have been a truck that was used to "build roads", but now it's an "exploration vehicle" on a mission to Mars.
Songs aren't much different — a kind of "toy of the imagination" for grown-ups. You "play around with it", but it isn't getting finished. Eventually your imagination leads you in a different direction. You're thinking on a new level, and the old song isn't fitting the new you.
So you put that song aside and start working on a new one. But for songwriters, putting a song aside when it's incomplete feels like a failure.
I hope you don't really think of it that way, because most of the time, it hasn't failed: it's simply incomplete.
The human imagination, particularly with regard to songwriting, has a way of evolving and mutating such that old songs that seemed to have failed suddenly become useful in a new way of thinking — a new way of composing.
Suddenly, the old song that wouldn't finish itself has new legs. All it needed was a new way of thinking.
If you're a dedicated songwriter, you'll have noticed that the way you approach songwriting today is not exactly the way you approached it a year or two ago. Things are different. You're older, wiser, you've heard more music, and you've grown.
The old fragments of songs from years ago can suddenly find a new life, because you're looking at the task of songwriting in a new way.
The best songwriters keep a notebook (or a folder of computer files) of old song fragments that seemed hopeful at one point, but never seemed to go anywhere. The best ones revisit that list of song bits from time to time, and will almost always find something that has new potential.
If you're not sure what to work on today, it might be time to revisit your list of "failures". Material for your new song may be only a click away.
---
Written by Gary Ewer. Follow Gary on Twitter.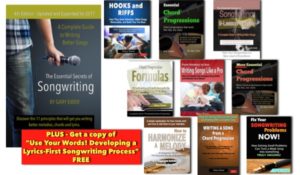 The perfect combination: "The Essential Secrets of Songwriting 10-eBook Bundle" and a Study Guide! Dig into the songwriting manuals that thousands of songwriters are using to polish their technique, complete with a study guide to show you how to progress through the materials. Comes with an 11th FREE ebook: "Use Your Words! Developing a Lyrics-First Songwriting Process."