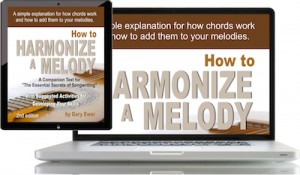 Have a  great melody, but stuck at the "how to add chords to it" stage? "How To Harmonize a Melody" shows you, step-by-step and with sound samples, how it's done, with suggestions for chord substitutions that might work as well. It's part of "The Essential Secrets of Songwriting" 10-eBook Bundle.
---
It turns out that what makes songs interesting to us is the same thing that makes people interesting to us. During an initial conversation, here's what we notice about interesting people:
They talk about things that are likely to engage us and make an impression on us.
They consider what we like (and what we are like), and try to incorporate those things in the initial conversation.
They ask interesting questions.
They draw us in by knowing how not to get too heavy (at least not in that first encounter).
They try to make an emotional connection (without getting creepy or awkward about it.)
And they probably do a lot of other things, but the point is that an interesting person will try to make you feel important. They place you in the middle of whatever it is they're talking about. They have developed the skill of making their story sound relevant to you.
And good songwriters do the same thing. They write about the things that make an impression on us. In the balance between innovative and predictable, they give us mostly (but not entirely) what we expect.
A good song verse asks — whether literally or figuratively — interesting questions and draw us in.
And probably most importantly, good songs make an emotional connection. Good songs are about feelings in the sense that they generate feelings within us.
So a good conversationalist winds up being an excellent metaphor for a good songwriter. If you find it hard to see the connection for yourself, turn it around and ask yourself, "What makes a bad conversationalist?"
For most, a bad conversationalist has a way of making everything seem to be about them, and practically irrelevant to us. And a bad song has a way of doing the same thing.
As you sit down to write your next song, think of it as a conversation you're about to have with someone you've never met before. What are you going to tell them?
---
Written by Gary Ewer. Follow on Twitter.
Thousands of songwriters have been using "The Essential Secrets of Songwriting" 10-eBook Bundle to polish their songwriting skills and raise their level of excellence. Right now, get a free copy of "Use Your Words! Developing a Lyrics-First Songwriting Process" when you buy the Bundle