Not everything you write is going to have hit potential, and you should be OK with that. It's not because a song is poorly written; it has more to do with the fact that it pleasantly (and perhaps amusingly) strays a little into left field with regard to lyric, instrumentation or some other aspect of songwriting.
When Paul McCartney wrote "Why Don't We Do It In the Road," he had no expectation that it was going to be anything more than a bit of fun in the studio. He wasn't advocating for a more open society. It was simply silly and humorous, and we don't judge the entire Beatles' output based on that song.
I wonder if we take ourselves too seriously at times as writers. There is a hope, I think, that everything we write is going to change someone's outlook, and perhaps make them a better person in the process.
But humour and silliness have always had an important place in the arts. Songs that are fun to come up with and fun to perform, with no other motive than to be less serious, have a vital role in keeping songwriting an enjoyable experience.
Being silly as a songwriter doesn't mean you have to turn a corner and become a different person. Writing a silly song is usually nothing more than a way to relax and be less serious for a while, and I wish we all did it a little more.
If you've written something humorous or just downright silly, feel free to post a link in the comments below. (And take time to watch one of my favourite silly songs, "Business Time", by Flight of the Conchords.)
---
Written by Gary Ewer. Follow Gary on Twitter.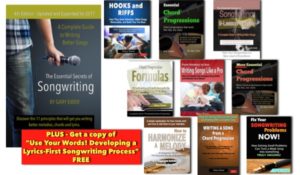 Thousands of songwriters are using The Essential Secrets of Songwriting eBooks to straighten out their songwriting problems. Have you been spending years just reinforcing errors? Sort out your technique! Get today's free deal!