There's something about reliving bad moments in our lives that we find good, in a weird sort of way. Sad songs work for that reason, and in fact, a recent study shows that we love to be reminded of sadness in our lives, if those reminders happen in song.
---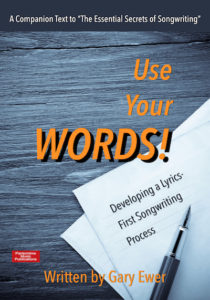 If you're trying to make your lyrics a much more important part of your songs, you need to read "Use Your Words! Developing a Lyrics-First Songwriting Process." It's part of "The Essential Secrets of Songwriting 10-eBook Bundle", and right now, it's FREE.
---
But there's a problem with sadness in songs, which is that all-sadness-all-the-time can sound whiny. Audiences need to come up for air. In amongst all the negativity that your song might be describing, an audience needs to know:
There's something good that comes from it all; or
Not everything is (or was) bad; or
You're all right now.
So in good sad songs, lyrics will offer a negative (sad) emotion, but also balance that with something positive or hopeful.
In songwriting, sad songs are usually about romantic relationships that have gone wrong. They're so popular because practically everyone has been there. Everyone knows the feeling of love lost. And in a weird kind of way, we don't mind reliving those feelings again.
Every era of pop music has countless examples of good sad songs. In 1969, Elvis Presley covered Mark James' song "Suspicious Minds." It's a good song lyric to look at for how to write a sad/downer song. It's about a relationship gone wrong, but in the bridge we feel the mood change, and hopefulness becomes the main emotion:
Negative (sad) lyrics:
"We're caught in a trap.."
"I can't walk out.."
"..you don't believe a word I say.."
"Here we go again, asking where I've been.."
Positive (hopeful) lyrics:
let our love survive
I'll dry the tears from your eyes
Let's don't let a good thing die
I've never lied to you
There's an exciting mood change that suddenly happens in the bridge, and every listener feels it. It gives the audience hope, and we all feel that nothing is ever irretrievably lost. That bridge is a wonderful moment.
In your own songs, you need to look for ways to allow your listeners a moment of relief from what might otherwise be a sad lyric. So:
You can write about the death of someone close to you, but in those lyrics, find a way to mention the good things you remember.
You can write about problems in our society, but in those lyrics, find a way to mention the goodness in people, what we all could be doing.
You can write about tragic events, but in those lyrics, find a way to mention human goodness that was noticeable despite the tragedy.
You can write about people who have done bad things in their life, but in those lyrics, find a way to allow your audience to feel hope and determination.
Any song that's all-negative-all-the-time will smother most audiences, and they'll eventually turn away from the song. People like hope. They like knowing that something good can come from something bad, and if you can find a way to weave hopefulness into an otherwise sad lyric, your audience will keep returning to that song.
Written by Gary Ewer. Follow Gary on Twitter.
The perfect combination: "The Essential Secrets of Songwriting 10-eBook Bundle" and a Study Guide! Dig into the songwriting manuals that thousands of songwriters are using to polish their technique, complete with a study guide to show you how to progress through the materials.