If you're looking to become a better songwriter and wondering why that's not happening for you yet, you only need to look at the kinds of goals and targets you set for yourself. Songwriters who struggle are usually guilty of one of the following:
The goals they set are unrealistic. ("I want to be writing songs for pop music's biggest acts within the next year.")
The goals they set are too vague. ("I want to be a better songwriter.")
Setting targets for yourself is a vital part of becoming a happier, more successful songwriter. Without targets to aim for, you've got no way of knowing what you're supposed to be achieving. But they need to be realistic, and they need to be specific.
---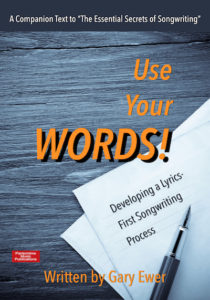 Want to get better at writing lyrics? "Use Your Words! Developing a Lyrics-First Songwriting Process" shows you three methods for starting your songs by working out the lyrics first. Right now, it's FREE with your purchase of the 10-eBook Bundle.