You should not necessarily worry if it takes you weeks or months to write a complete song while all your songwriting colleagues are getting the job done in days, sometimes hours. How long it takes to finish a song rarely has anything to do with how good it is.
Having said that, it's going to be frustrating if, after a year of writing, you've only got two songs to show for your efforts. Assuming there's nothing obviously wrong with your process, is there a way you can speed things up, and write more?
---
Evaluating your songs objectively is crucial to songwriting success. "Fix Your Songwriting Problems – NOW!" puts the magnifying glass on 7 of the most common problems that songwriters typically face, and offers great solutions to try.
---
Writing Better as a First Step
Your first objective should be to evaluate the songs you do manage to write to completion. Some things to look for:
Evaluate your songwriting process. A process is a good one for you if it's stimulating your creative mind and generating ideas.
Don't obsess over the quality of your ideas too soon in the process. It's often best to get a song working, even if you don't like the lyric, the melody, or want a better progression.
Once you've got a completed song, then start to improve it. By working to quickly get a song in some kind of finished state, you've got something concrete, something tangible, that you can work to improve. A blank page gives you nothing to evaluate, and so your overall process can grind to a frustrating halt.
Step 3 by itself will do much to speed up the songwriting process for you, but all 3 steps are a necessary first stage in becoming more prolific as a writer. Now it's time to really focus on writing more.
Writing More as a Second Step
If you're comfortable with your songwriting process, and feel that it's giving you good quality ideas, it's time to focus on writing more. Some things to try:
Write several songs at the same time. Having several songs on the go at any one time has one particularly powerful advantage: it helps to prevent writer's block. When your ideas for a song run dry, simply switch to another song, and work on it until that song gets momentarily stuck. Then move on to another. By keeping several songs going, you feel creative and prolific.
Figure out a songwriting schedule that works for you. Most of us can find time on at least 5 out of 7 days per week to devote to writing. But simply planning to write isn't often enough. Create a songwriting schedule, and then try as best you can to stick with it. Having even the best of intentions to write won't often get the job done. Write your schedule down, and then do it.
Use several songwriting processes. Starting every song the same way not only results in songs that all have a sameness about them — they also make you feel that you're constantly working on the same song. So develop as many different processes as you can, and try to feel comfortable with each one. Lyrics first, chords first, melody first, and so on… with each possible way of starting, you'll find that your creative mind engages the task of writing in a fresh, new way, and that alone will speed up the process. (And don't forget collaborations as a great way to get more songs written.)
---
Written by Gary Ewer. Follow Gary on Twitter.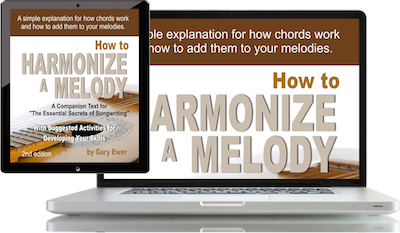 Do you know how to add chords to that melody you just thought up? "How to Harmonize a Melody" shows you how to do exactly that. It shows the secrets of harmonic rhythm, identifying the key of your melody, chord function, and more. It's part of "The Essential Secrets of Songwriting" 10-eBook Bundle.