If you spend any time at all listening to or reading interviews from top-level singer-songwriters, you'll find that they spend a lot of time talking about other songwriters. That's because for the most successful artists in the business, it's always about knowing what else is going on in their genre, and trying to stay ahead of it.
In other words, the best songwriters want to be leaders, not followers.
Mind you, you can actually carve out a pretty successful spot for yourself in the music world by being a follower. If you're doing the same kind of music that the best musicians are doing, and doing it reasonably well, you'll benefit by tapping into that pre-fabricated audience, and many can make that work.
---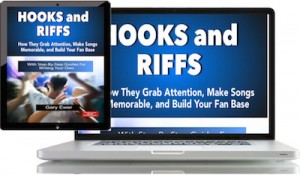 "The Essential Secrets of Songwriting" 10-eBook Bundle will take your songwriting further than you've ever taken it before. And it comes with a copy of "Hooks and Riffs: How They Grab Attention, Make Songs Memorable, and Build Your Fan Base". Read more..
---
But the truth is that history tends to reward the innovators, the ones that took a risk, the ones that did something that sounded unique for its time.
It's hard to teach someone how to be an innovator. Innovation in music means doing something in a way that hasn't been heard before, at least in that writer's chosen genre.
But inasmuch as being an innovator has as much to do with a state of mind than anything else, it is actually possible to arrange your musical mind in such a way that it makes it more likely that you'll be an innovator and not a follower.
If you're tired of having your songs sound like everyone else's, and if you're truly wanting to keep your music on the cutting edge and building a large, dedicated, successful fan base, here's how you become an innovator.

1. Fix Your Songwriting Technique.
There are many ways to do this, including reading songwriting manuals, recording short bits of musical ideas and perfecting those short ideas, and generally developing the mindset that the first thing you write is not necessarily (or often!) the best thing.
2. Watch and Read Interviews With the Industry's Top Players.
Find out what they're saying about writing, recording, collaborating… Interviews with professional songwriters, bands, producers, engineers, managers and agents is the best way to learn what the pros are doing to stay on top. Don't forget to visit their websites, too. It's a great way to get free advice.
3. Making Listening a Daily Activity.
Listening to a new recording by an established artist is one of the most important passive activities a songwriter can do. Why? Because each time a recording is released, dozens of professionals are essentially saying, "This is what I want the world to think of me. Today, this is my best work, and I want my name associated with this recording." It may not be the best thing you've heard, but you can be sure that the presentation is current.
If listening is something you do on a daily basis, you've set yourself up in the best way possible for creating music that's on the cutting edge.
Just as a language constantly changes, where words get added and dropped in short order, music is a language that is constantly changing. You're either going to change with it, or you're going to sound old very quickly.
If you find that you're unable to build and maintain a healthy audience base, remember these 3 vital things: 1)Technique; 2) Read and watch; and 3) Listen.
______________________
Written by Gary Ewer. Follow Gary on Twitter.