Melodies and lyrics are protected by copyright, unless they're old enough to have passed into public domain. But chords? You can usually use chord progressions from already-existing songs, even if that song is newly composed and under copyright protection.
---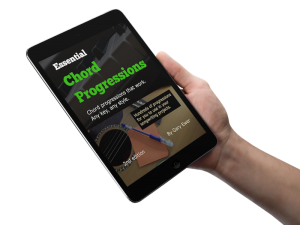 Looking for lists of progressions you can use in your own songs? "The Essential Secrets of Songwriting" eBook Bundle has 2 main collections, plus eBooks on how to harmonize your own melodies, and more.
---
The main reason you'd want to use chords from songs you know is quite simple: you know they work. These days, many of you are in a Christmas frame of mind, and Christmas carols can be a good source of chord progressions for you to try in your next song.
You can find chords to Christmas carols in many places online. What I'd recommend is:
Find a progression you like.
Write it down without the lyric, and put it away for a day or two (to get the original tune out of your head. ;))
Take it out a few days later and play through the progression in as many different ways as your creative mind allows (different time signatures, different backing rhythms, different tempos, different performing styles, etc.)
By borrowing a chord progression from someone else's song, you'll find that you get to skip the chord creation stage, and jump right to the creating the melody/lyrics stage of songwriting. And as I say, you've got a progression that you know works.
Here's a few progressions to get you going. Some are just short bits of the original progressions, while others are the entire set of chords. Try experimenting with bits to create your own song:
Angels We Have Heard On High
Verse: C G C G…
Chorus: C A7 Dm G C F G C…
Silent Night
C G C F C F C G C G C
Joy To the World
D G D A D G A D
Hark! The Herald Angels Sing
F C F C F Bb C F
O Come All Ye Faithful
G D G C D Em D A D A D G
Try this with your favourite carol. As above, just choose a section of the original song, pull out the chords, and then start to create your own song with those chords.
---

Written by Gary Ewer. Follow Gary on Twitter.
Even if you don't have a background in music theory, there's a lot about chord theory you can discover and use! Several eBooks in "The Essential Secrets of Songwriting" 10-eBook bundle (plus the free "Use Your Words!") show you exactly why chords work the way they do, and then show you how to use them in your own songs.