You don't need to learn every area of music theory all at once. Here's a short list to get you started.
__________________
Download "The Essential Secrets of Songwriting" 6 e-book bundle. Become the best songwriter you can be!
__________________
To put it succinctly, music theory is what allows musicians to be literate. It makes it possible to listen to music and understand what's going on. This is important knowledge, because it allows composition to become a positive action, rather than a random hunting around for something that sounds good. The most obvious benefit of an understanding of music theory is not necessarily the improvement of musicianship (though that certainly happens). It's greatest benefit is the ability to understand why something sounds good, and to modify it for use in your own songs.
The idea that music theory will stunt creativity is simply not true, and borders on the silly; the world's greatest composers (Bach, Beethoven, Mozart, Stravinsky, and countless thousands others) not only knew music theory, but were known as master teachers of theory in their day. And to say that Mozart was a good composer but could have been more creative if he hadn't been stunted by theory is ludicrous.
Having said all that, it might be true to say that there are bits of rudimentary music theory which are more specifically important for songwriters than other parts. Here's a short list of rudiments that you would do well to get under your belt:
Basic note reading in treble and bass clef. This is a vital part of being an all-round musician, equating to the basic ability to read and write a language.
Basic rhythmic notation. You can create some really fine backing rhythms and rhythmic interplay between instruments once you know how to put it into notation. This skill also allows you to identify what's going on in a song, and adapt it for your own use.
Intervals. An interval is the space between two notes; for example, the opening melodic interval of "Hey Jude" is a descending minor 3rd. Being able to dissect melodies and understand what's going on requires a good knowledge of intervals.
Basic chord theory. A song's chord progression is the landscape, as it were, for the other important elements such as lyric, melody and rhythm. Understanding how chords like to move is a vital part of songwriting.
Major and minor scales. Probably every song you write will be based on a major or minor scale. A knowledge of scales does a lot for you, including making transposition to different keys easier.
Time signatures. Changing time signatures within a song is a favourite technique of progressive rock bands, but can really raise the creativity level of music in almost any genre.
With those six basic areas of musical rudiments, you can significantly raise your compositional output, and turn the writing of music from being a random search for something good into something far more sophisticated.
And once you've got a handle on those areas, it's time to raise the bar again by getting familiar with:
Altered chords, and various non-chord-tones.
Chord inversions.
Modes.
Cadences.
Complex time signatures
Becoming more literate allows you to take those creative ideas that you hear in other songs and identify them accurately. There's a wonderful Kern & Hammerstein tune that I heard recently at an anniversary reception, called "The Folks Who Live On The Hill", recorded by hundreds of singers. Peggy Lee's version is stunningly gorgeous. It has a trumpet line that really grabs attention. You can spend a lot of time trying to figure out what the trumpet is doing at 0'09", and why it sounds so… different.
But all that time evaporates when you realize that the song is in a major key (E-flat major), and the trumpet is playing in a mode (Eb mixolydian). That knowledge then allows you to think of ways that you can incorporate mixolydian effects into your own music.
So stop thinking of theory as something that stunts creativity. It does the opposite. It opens your mind, helps you identify musical effects you're imagining, and speeds up the songwriting process.
If you want to check out my own musical rudiments course, check out my "Easy Music Theory with Gary Ewer" page.
____________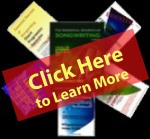 "The Essential Secrets of Songwriting" 6 e-book bundle will show you how to write great songs, harmonize your melodies, and give you hundreds of chord progressions in the process.
PURCHASE and DOWNLOAD the e-books for  your laptop/desktop