Download "The Essential Secrets of Songwriting" 6 E-book Bundle, and become a top-level songwriter!
__________________
There's nothing like a good hurtin' song. But there's nothing worse than a singer who gives us a verse lyric that moans about his miserable existence, moving on to the chorus where we learn that he really feels miserable, in case we didn't quite get it from the verse. The bridge then offers the opinion that things still don't look very good, returning to a few final repeats of doleful misery. If all you do is moan from beginning to end of your song, your audience will get completely turned off. There is a way to do it effectively.
Country music seems to be the genre that lends itself most readily to the topic of relationship breakdown. But every genre has their hurtin' songs. Lady Antebellum's crossover hit "Need You Now" is a recent great example.
If you want to make an emotional impact with listeners, you need to get things in the right order. "Need You Now" is a perfect model for getting it right.
In the many posts I do that compare verse and chorus structure, I often describe verse lyrics as "inconclusive", and choruses as "conclusive." What I'm talking about when I use those descriptors is the emotional direction of the narrative.
A verse lyric needs to concentrate on relating a story or situation. You can insert emotional responses as you go, but your primary mission in the verse is to set up the emotional response that's going to happen in the chorus.
To use "Need You Now" as a model, take a look at the first verse:
Picture perfect memories
Scattered all around the floor
Reaching for the phone 'cause
I can't fight it anymore
At this point, you don't know what direction the lyric is going to take. Perhaps it's going to say, "I need to end this relationship." Or maybe it will reaffirm the need for the other person. But at this point, we don't really know.
Not knowing is what keeps listeners listening.
The line leading up to the chorus begins to reveal the situation:
And I wonder if I
Ever cross your mind
For me it happens all the time
When we finally get the chorus, the situation is clear, and the title line, "…need you now," becomes the emotional focus of the entire song.
Just imagine how ineffective the chorus would be if the verse was simply line after line of variations on "I feel so bad without you…" That kind of constant negative emotion throughout a song just makes listeners feel lousy. And makes the chorus less effective.
By saving your strongest emotional statements for the chorus, you pull listeners along in a very effective way. And you give important focus to the emotional impact of your lyric.
The best guideline to follow here is: For any emotional statement, be sure the listener knows why that emotion exists, or will know within the next line or two.
And save your strongest emotional statements for the chorus.
____________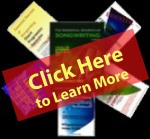 "The Essential Secrets of Songwriting" 6 e-book bundle will show you how to write great songs, harmonize your melodies, and give you hundreds of chord progressions in the process.
PURCHASE and DOWNLOAD the e-books for  your laptop/desktop