RavenousRaven is a "Twitter Songwriting Community", and is a fantastic way to get your music heard by thousands of sympathetic songwriters, all trying to do what you're trying to do: become an even better songwriter. One of the best ways I know of becoming better at what you're doing is to get your music out there for others to hear, and allow them to offer a supportive critique of your work.
And so what does RavenousRaven offer that's so valuable? They boast over 11,000 followers, many of whom are songwriters who love to hear what other writers like you are doing. They tweet and retweet songwriting news and tips, and through their website they provide instruction, articles, and good ol'-fashioned encouragement to songwriters. [Continue reading below..]
_________________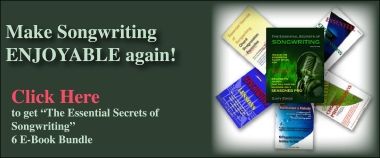 _________________
One of their most valuable services is their #Song4Comment thread via Twitter. Every day they provide a link to a song that's been submitted by a member of the community, to be critiqued by other members.
I know of no better way to improve your songwriting skills than to let others listen, assess and comment on your music. To not put yourself in front of others isolates you, and in my opinion stunts your creative growth.
In a sense, songwriting communities like RavenousRaven offer that ability to present your art to like-minded people in much the same way as the college repertory class does. Your colleagues listen and give you an impression of how your song is coming across to others. And that kind of positive feedback is the one thing you can't do for yourself!
In case you're worried that you'd be presenting your music to a bunch of overly-critical would-be writers with an agenda, check out their Twitter feed to see the kind of supportive, encouraging remarks others in the community are making.
In return, you'll be learning even more about songwriting, and making valuable connections to other writers.
To become part of the community, simply follow RavenousRaven on Twitter. And becoming part of that community could be the opening of a door to opportunities that you've been looking for.
_________________
Are you a songwriter who's STUCK? Get chord progression charts, songwriting lessons, and much more! Download "The Essential Secrets of Songwriting" for your desktop or laptop, and get back to writing great songs!
Or try "The Essential Secrets of Songwriting" iPhone/iPod Touch App.