A circle of fifths progression is one where the roots of the chords are related to each other specifically by ascending 4ths or descending 5ths. Circle of fifths progressions are considered to be harmonically very strong, in the sense that they pull our ear toward one chord being the tonic, or key chord. In that sense, they're very satisfying; you'll probably see a great use for circle of fifths progressions in the choruses you write because they're so strong and unambiguous.
---
Gary Ewer's "The Essential Secrets of Songwriting" eBook Bundle packages have been helping thousands of songwriters write the music of their dreams.
Right now, the 10-eBook Deluxe Package is on sale at a discount price. Read more..
---
The best way to create circle of fifths progressions is to work backwards from your harmonic goal. In other words, start by writing the chord you want to end up on, and create a chord in front of that chord that is a 5th higher or a 4th lower.
You'll need to start by knowing what the chords associated with any given key are. I've done lots of posts on this, but if you're in C major, the chords at your disposal are: C Dm Em F G Am and Bdim.
So write C as your final chord. The chord in front of this will be G, i.e., a 4th lower. The chord in front of this one will be Dm – a 4th lower than G. And so on…
The circle of fifths works well because its patterns are predictable. And since songs (especially if you're attempting to write hit songs) will often need a healthy dose of predictability, circle of fifths-based progressions are usually quite desirable.
"Heart and Soul" is based on a standard circle of fifths progression:
C Am Dm G
Because the circle of fifths require a repeating pattern of root movement, you'll find that it's relatively easy to create melodies that also use repeating shapes to partner with these progressions. (Click here to listen – opens in a new browser window):
I've explained how to create a circle of fifths progression backwards. All you need to do to create a circle of fifths progression in a forward direction is to start on the I-chord, leap to any chord you'd like, and start the process of following each chord with one whose root is a 4th higher or a 5th lower.
The chords for the sample above are: C  F  Bdim  Em  Am  Dm  G  C.
You can create progressions that are partly based on the circle of fifths, and partly based on other harmonic relationships:
C  Em  Am  F Dm  G  C
C  G/B  Am  Dm  G  Am  F  C
And try this one, which wanders a bit away from C major before coming back:
C  C/Bb  Am  F  Bb  Eb  G  C
Want more on chord progressions? Check out this video, "What Are Strong and Fragile Chord Progressions, and How Do I Use Them?" It will show you how chords change from one section to the next in many pop songs.
_________________________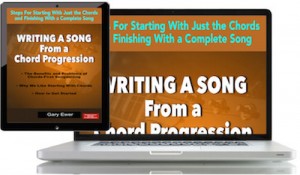 "Writing a Song From a Chord Progression" is the eBook you need if you like starting the songwriting process by working out the chords first. This eBook is part of the 10-eBook Deluxe Bundle package, on sale right now at the online store.