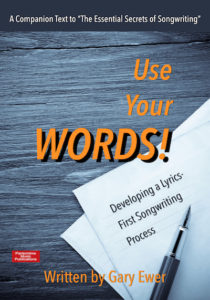 Don't miss out on a free copy of "Use Your Words! Developing a Lyrics-First Songwriting Process." It's free when you purchase "The Essential Secrets of Songwriting 10-eBook Bundle"
---
No matter how good the individual components of a song are, nothing is important as the basic groove you get from that song. You can have clever lyrics, killer melodies, wonderfully supporting chord progressions, and a fantastic vocalist, but the basic groove and feel you get from a song supersedes it all.
I was reading about Earth, Wind & Fire's 1978 hit "September" (Maurice White, Al McKay, Allee Willis), which uses the nonsense syllables "Ba-dee-ya" prominently throughout the song.
Co-writer Allee Willis begged lyricist Maurice White to change the lyric to something more meaningful, but White declined. He loved the way it sounded and didn't care that the words were meaningless. Willis claimed in the NPR article "The Song That Never Ends: Why Earth, Wind & Fire's 'September' Sustains" that it served as a powerful reminder to her about the importance of the groove:
"I learned my greatest lesson ever in songwriting from him, which was never let the lyric get in the way of the groove."
I'd say that that principle applies to everything you can add to a song. It's either supporting the groove, or it's detracting from it. And in the end, how a lyric feels is going to be the most important part of its success.
---
Written by Gary Ewer. Follow Gary on Twitter.
Thousands of songwriters are using "The Essential Secrets of Songwriting 10-eBook Bundle" to polish their songwriting technique. Take your music to a new level of excellence!