As a songwriter you may be attracted to the notion of writing something complex, something that really gets your audience thinking. Complex chords, intricate harmonies, thoughtful lyrics, melodies that surprise… it's all part of what makes your 4-minute song something that will stimulate the imagination of your listeners.
The problem with complexity in songwriting is that it can miss the mark and turn audiences off if complexity is all you've achieved. Most of the time, an audience is looking for something they can connect to on an emotional level. In that regard, it won't matter how clever your songwriting is if it isn't allowing the audience to make an emotional connection.
---
Looking for ways to create dozens of progressions quickly? Read through "Chord Progression Formulas." They'll give you the formulas that will help you come up with lots of progressions within moments. Get it separately, or as part of "The Essential Secrets of Songwriting 10-eBook Bundle"
---
The best kind of complexity in music is the kind that has, at its core, a foundation of simplicity. In other words, no matter how clever you've been with, let's say, your lyrics, you've offered the listener something that touches them and makes them feel something primal and basic.
If you're trying to take your songs to some new level, having your audience discover something deeper in your thought processes, diving into the deep end may simply deliver a confusing song that misses everyone's mark.
At the centre of every profound song is a core of simplicity. Practically every song that works can be pared down to something basic — something elemental. In that sense, if you reverse-engineer a song that seems complex and — in a musical sense — impenetrable, you start to discover that the best ones have something structurally simple at their nucleus.
If you're writing a song where you're trying to stimulate the imagination of your listeners, ask yourself a simple question: What am I really trying to do here? Here are some tips you might consider:
For a more complex chord progression, strip your ideas down to something basic — a "I-IV-V-I" kind of skeleton — and then use that as a foundation to throw in more interesting chords.
For a more complex lyric, the rules of connecting to your audience still remain. So in an among all the complex imagery and metaphors, you still need to include words and phrases in your lyric that touch the heart of the listener. As a great example, check out the lyric to Imogen Heap's "Hide and Seek." In among the complexity are lines whose purpose is to reach out and connect to the audience's emotions.
For a more complex melody, think about where your melody is starting and where it's finishing, and how, on a simplistic level, it partners with the chords you're using. Simple melodies move mostly by step and use mostly diatonic notes (i.e., notes that belong to the key you've chosen). Complex melodies will possibly move around a bit more, include more surprising leaps and non-diatonic notes. But those complex note choices more often than not occur between strong beats. It does not take much complexity to make a more intriguing melody.
For a more complex feel, set up a predictable, basic song groove, and then insert more intricate rhythms and phrasings to give the impression of complexity. A great example of this is in "One For the Vine" by Genesis (Tony Banks), where, in a middle section of the song, rhythmic syncopation makes it sound like something very complex is happening to the time signature. In fact, everything stays in 4/4 time, but the rhythmic complications make it seem that something much more is going on.
---
Written by Gary Ewer. Follow Gary on Twitter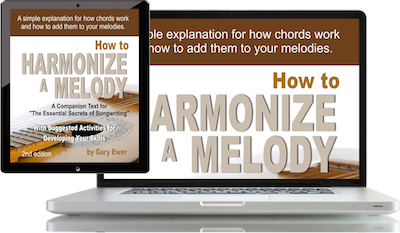 "How to Harmonize a Melody" shows you the steps to adding chords to that melody you've just come up with. With sound samples to help you understand the concepts.