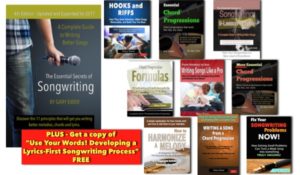 "The Essential Secrets of Songwriting 10-eBook Bundle" covers every aspect of good songwriting. It's being used by thousands of songwriters to improve their technique. Start writing the best songs of your life, now!
---
Every song is, to some degree, entertainment. If you aren't entertaining your target audience, you're missing the mark.
That's not to say that entertainment is your sole concern. Or even your highest priority. It might be that the message of your song is more important than its entertainment value.
But songs that have a strong message need to be entertaining on some level. When you think of the songwriters who craft songs that have an important message in the lyric, what we really like is that they were able to convey that message in a very entertaining package.
So it's a balancing act. You love what the song is telling you (the message), but you really love the way that message is conveyed (the entertainment).
So what is a message? Can a lyric that simply describes the fun you had at a party last evening be a message?
Sure, it can. But like all musical elements within a song, the simpler and more easily understood that message is, the quicker an audience will turn their attention elsewhere to find something more substantial.
So if your song's message is "I love parties", you'll likely create a musical package — an entertainment experience, if you will — that will be similarly light and simple.
And like a bag of potato chips, it's gone pretty quickly, and your audience will be ready for something else.
For me, I love songs where the message is a little deeper than what I might see on its surface. I don't begrudge a songwriter's attempt to tell me what fun he/she had at a party with their friends. I just don't much care.
So as a listener, I go looking for more, and I'm likely to gravitate to singer-songwriters that offer more.
And I believe that most of your listeners will want more.
---
Written by Gary Ewer. Follow on Twitter.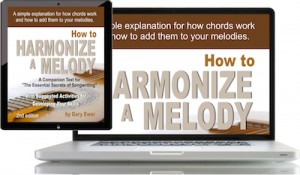 Have a  great melody, but stuck at the "how to add chords to it" stage? "How To Harmonize a Melody" shows you, step-by-step and with sound samples, how it's done, with suggestions for chord substitutions that might work as well. It's part of "The Essential Secrets of Songwriting" 10-eBook Bundle.