Sometimes just editing verse lyrics won't give you what you want. It might happen that despite how many times you change a word here and there, you still wind up with a verse that's weak in some way. It can be frustrating.
So here's a different way to fix the verse (and lyric) that isn't working: write lots of verses, and choose the ones that come the closest to saying what you want to say, and then edit those ones.
---
Want to know more about how to write song lyrics, and how lyrics change as a song progresses? Check out this video: "Controlling the Emotional Impact of Lyrics." And check out "The Essential Secrets of Songwriting 10-eBook Bundle" – It comes with a  free copy of "Use Your Words! Developing a Lyrics-First Process"
---
George Harrison did that with "While My Guitar Gently Weeps," and you can read more about that online at The Beatles Bible.
The great thing about writing lots of verses?
You can do it knowing that no one is going to hear the verses you don't intend to use.
It lets you finesse the direction in which your song is moving.
It takes the pressure off of having to fix verse lyrics that are hard to fix.
You can come across metaphors and imagery you might otherwise not find if you've decided on your chosen verses too early in the process.
Once you've got a dozen or so verses written (you can't write too many!), choose the two or three that you think flow nicely, the ones that create the right kind of imagery, the ones that tell the story the way you think it needs to be told.
In a sense, writing too many verses is a great way to practice your lyric-writing skills. You'll often find that each time you rewrite a verse, you get a little closer to what you've been imagining all along, and it can be very satisfying.
It can also work well as a lyrical brainstorming session. Try it as a kind of speedwriting exercise: get as many verses written as you can, as quickly as you can, and try not to be overly critical of what you're doing. Remember, you can (and will) toss whatever isn't working for you.
---
Written by Gary Ewer. Follow Gary on Twitter.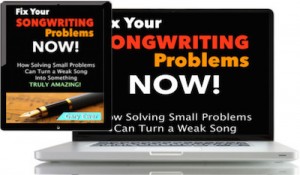 There are lots of ways a song can go wrong, but here are 7 of the most common problems, along with solutions for you to try: "Fix Your Songwriting Problems – NOW!" Buy the eBook separately, or get it as part of "The Essential Secrets of Songwriting" 10-eBook Bundle.