There are the kind of deadlines we're always setting for ourselves, and then there are the real ones. For songwriters, here's the difference: A deadline comes about when you say, "This year I'm going to release a new EP", or "This year I'm going to write 15 new songs."
Sure, those are deadlines, but let's face it — there aren't usually penalties for missing those kinds of deadlines. So what if your new EP gets pushed to next year? So what if you only wrote 9 songs instead of 15?
---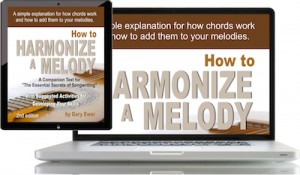 Once you've got a melody, how do you know which chords will work with it? "How to Harmonize a Melody" shows you how to do exactly that. Shows the secrets of harmonic rhythm, identifying the key of your melody, chord function, and more. It's part of "The Essential Secrets of Songwriting" 10-eBook Bundle.
---
Setting deadlines, objectives, goals… they don't amount to much more than mere words if there isn't a sense of urgency that comes with them.
So what's a real deadline? That's one for which the work must get done: you have no choice.
Film score composers know about real deadlines because they're working with producers who need music when they say they need it.
For those kinds of deadlines, there isn't opportunity to say, "Well, I'm not really feeling it this week… maybe next week."
If you're the kind of songwriter who constantly sets deadlines for which there is no penalty if they're missed, you're probably just making yourself feel ineffective and miserable when you miss them.
And in fact, you're very likely to miss those kind of weak deadlines. We all do.
So how do you create a sense of "positive urgency" with your deadlines? How do you create deadlines for yourself that really work, that really show results?
Applying Pressure In a Positive Way
Well, there are actually quite a number of ways.
You can determine to write a song as a gift for someone on their birthday. You won't want to miss that!
You can also tell your audiences that you're releasing a new set of songs, and tell them when you're doing it. A bit of public pressure would work.
Partner up with someone who has a real deadline. You might, for instance, offer to write songs for someone's upcoming film or theatre production (check with your local university or college for these sorts of opportunities). You won't want to mess up their deadline.
But here's another good way to apply gentle pressure to yourself to get something done: Blog about it. Tell your blog audience when you plan to have your new songs ready for streaming.
And then blog the process. Tell them how it's going, and don't make excuses. Plan a public CD-release type of event to go along with it.
The more you add to the audience's expectations, the more urgency you'll feel to get the job done.
What If You Still Miss the Deadline?
And if you still miss that deadline? Yes, even after that kind of pressure, missing the deadline is still possible. Happily, though, I think you'll find your success rate considerably higher.
But in missing that kind of decline, you'll find most of your fans will be understanding, particularly if missing these kinds of deadlines happens because "life got in the way" — sickness, family issues, new or changing job commitments. These can happen to anyone.
The point here is to not make yourself feel miserable. If you miss this kind of deadline despite the gentle pressure you've been applying to get your songs released on time, you may need to look at your overall sense of organization, and that's a topic for another blog post.
How do we know that pressure like this works? Most professional writers would agree with it. A recent quote I've seen on this comes from urban fantasy writer Jim Butcher:"I don't have writer's block; I have a mortgage."
---
Written by Gary Ewer. Follow Gary on Twitter.
"The Essential Secrets of Songwriting" 10- eBook bundle comes with a free copy of "Creative Chord Progressions". Learn how to take your chords beyond simple I-IV-V progressions. With pages of examples ready for you to use in your own songs.