Keep these 5 things in mind, and you should be able to create your own holiday favourite!
____________
Download "The Essential Secrets of Songwriting" 6-eBook Bundle, and build your audience base!
_____________
When you think about your childhood, it's quite likely that music plays a large role in how you remember those times. For those who celebrate Christmas, that is certainly true. The Christmas music you remember from your days as a young child probably still holds tremendous power. There's no reason that the music you write can't become a holiday favourite in  your own household, something that's listened to for even generations.
Is there a difference between how you write music ordinarily, and how you might write your own modern-day Christmas classic? Probably not. But there are things you'll want to keep in mind when writing music when you want to give people a warm, fuzzy feeling. Here are 5 tips to keep in mind:
Use the first lyrics to convey a warm, pleasant emotion. While verses usually set the stage by describing people, places and situations, the first words of a Christmas song should use warm, nostalgic, inviting imagery. Irving Berlin's "White Christmas" is a great model: "I'm dreaming of a White Christmas/ Just like the ones I used to know/ Where the tree-tops glisten and children listen/ To hear sleigh-bells in the snow…"
Try balancing your music strongly toward traditional melodic shapes and chord choices. Christmas music is a great place to give people what they're expecting to hear. So predictable chords like circle-of-fifths, and melodic shapes that use the tonic note and chord as a goal will work well.  A good example is "Silver Bells" (Jay Livingston and Ray Evans).
Use lots of stepwise motion in your melodies, and avoid sitting on one pitch. Christmas music works nicely when the melodies have a nice sense of contour and design. Some great models for this is "White Christmas", "Jingle Bells", and this beautiful version of "O Little Town of Bethlehem". While your Christmas song may not have this same traditional sound and structure, all three of these examples show how good melodic structure is so crucial for memorable music.
Make the formal design clear. Whether audiences know it or not, one of the most compelling features of music, the feature that makes music really click, is a clear formal design. Verse and chorus with optional bridge will work every time!
Don't get preachy. A favourite pet peeve with many people when it comes to this time of year is the seeming neglect of the true meaning of Christmas. If that's your beef, you're not going to turn it around quickly with music that punches its message home with irritability or frustration. Find positive ways of conveying strong Christmas messages.
And one other thought — don't forget the power of a good dose of humour. Songs like "Grandma Got Run Over By a Reindeer", or any funny parody of "The Twelve Days of Christmas" remind us that the sound of laughter is a wonderful part of this time of year.
____________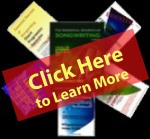 "The Essential Secrets of Songwriting" 6 e-book bundle will show you how to write great songs, harmonize your melodies, and give you hundreds of chord progressions in the process.
PURCHASE and DOWNLOAD the e-books for  your laptop/desktop