Download "The Essential Secrets of Songwriting" 6 E-book Bundle. Become a top-level songwriter, starting now.
_________
Three part ABA songs are ones that usually have no chorus. They normally consist of one long "verse" that presents a main melody, a contrasting melody, and a return to the first main tune. There are two perfect models for this kind of structure: Lennon & McCartney's "Norwegian Wood (This Bird Has Flown)" (1965), and Peter Cetera's "If You Leave Me Now" (1976). Both songs embellish the form, extending it for mileage's sake. Because neither song uses a chorus, it reverses the fragile-to-strong progression that we normally see in verse-chorus structures. Let's take a look at how that works.
As I mentioned in yesterday's post, we know that in songs that use a chorus, it's normal to allow the verse to explore a bit, to allow the possibility of some ambiguity in the harmonic structure. Verse chords will take a journey, as the singer recounts a story or situation. By the time we get to the chorus, harmonies become much more predictable, and usually use a smaller chord set.
In 3-part songs that use an ABA format, we get a bit of a reversal of that: the first part of the verse gives us a melody and progression that fairly strongly and unambiguously point to one chord as the tonic chord. The harmonic journey typically takes place in the "B" section, after which we get a return to the A-melody.
The only problem with pop songs and the ABA format is that, followed strictly, you wind up with a fairly short song. In both "Norwegian Wood" and "If You Leave Me Now", the format is extended through repetition.
Both Lennon and Cetera come up with the same solution:
[Intro]ABA-BA
In Lennon's case, he inserts the song's intro after the ABA format is complete, and then repeats B, returning to A.
In Cetera's case, the return to A in the middle of the form is an instrumental. This solution is perfect for "If You Leave Me Now", as the song is longer: it works well to drop the voice out, bringing it back for the final repeat of BA.
Harmonically, each song's A section is simple and clear, and makes no attempt to venture away harmonically, or to add altered chords (with the exception of a secondary dominant chord in Cetera's case).
Complexity happens in the B section. With "Norwegian Wood", the harmonic direction is ambiguous. The abrupt change to Em (from the original key of E major), could be interpreted as a change of key to either E Dorian or D major, before returning to E major for the return of the A section.
With "If You Leave Me Now", the B section (again abruptly) moves toward E as a tonic (from the original key of B major). And in the case of both songs, the B section uses a larger chord set.
So the main lesson to learn here regarding harmonic structure of 3-part songs that use no chorus is to start strong, then allow for harmonic development before returning to strength with a return to the original theme.
Here are some variations on the ABA format you may want to try in your songwriting:
A-B-Bridge-B-A
A-Bridge-B-A
A-B-Bridge-ABA
In each case, the bridge can be an extension of the section that came before it, or as simply a way to provide variation before repetition of the main thematic material.
____________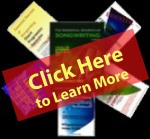 "The Essential Secrets of Songwriting" 6 e-book bundle will show you how to write great songs, harmonize your melodies, and give you hundreds of chord progressions in the process.
PURCHASE and DOWNLOAD the e-books for  your laptop/desktop