Download "The Essential Secrets of Songwriting" 6-ebook bundle. Over 390 pages of songwriting instruction, covering every aspect of how great songs are written!
_____________
A song is a musical journey, and in order for that journey to make sense to the listener, things need to unfold in a somewhat logical way. If your songs usually involve verses, choruses and bridges, you're missing out on a great opportunity to be creative if you're always presenting those song elements in the same order. There are lots of other opportunities to "shake things up" a bit, and over the next few blog postings, I want to look at other ways to structure your music. Today, let's look at the advantages of starting a song with the chorus.
There aren't that many songs that start this way, but the examples are great ones: "Lady Madonna" (after a piano intro): The Beatles; "I Shot the Sheriff": by Bob Marley, also a hit for Eric Clapton; and "People Got to be Free": The Rascals.
If you think of the chorus as the section where you give an emotional reaction to the situations presented in a verse, you might wonder how starting with the chorus would make any sense at all. But it really can work.
The main advantage to starting this way is that your song usually gets a shot of adrenaline right away. If you use the example of "People Got to be Free", here's the resulting form:
Chorus – Verse 1 – Chorus – Verse 2 – Chorus – Instrumental break – Chorus…
In the case of Clapton's version of "I Shot the Sheriff", the chorus melody resides a little below the melodic range of the verse. So in a way, it's as if the verse melody takes over an important characteristic of typical chorus melodies. We usually see choruses with higher melodies.
There are no important guidelines to consider or follow when it comes to deciding the order in which song elements should be presented. Listeners will hear a chorus as a chorus mainly because chorus melodies tend to dwell in and around the tonic note. They'll either start on the tonic, or they'll present short melodic fragments that keep moving back to the tonic.
That presence of the tonic note keeps the energy level up and excites the audience.
So if you find that your songs come dangerously close to "same old, same old", innovation may be easier that you may think: simply change up the order of the various song elements. It requires no rewriting – simply reordering. And particularly if your chorus is exciting and singable, with a catchy hook, you can get immediate attention from your audience.
_______________
Written by Gary Ewer, from "The Essential Secrets of Songwriting" website
Follow Gary on Twitter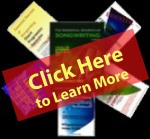 "The Essential Secrets of Songwriting" 6 e-book bundle will show you how to write great songs, harmonize your melodies, and give you hundreds of chord progressions in the process.
PURCHASE and DOWNLOAD the e-books for  your laptop/desktop